Sandbox SHINE ON Snowboard DVD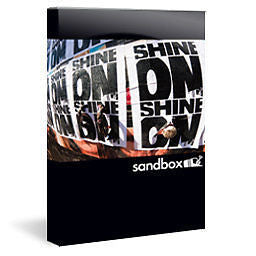 Sandbox "SHINE ON" Snowboard DVD.  Brought to you by Snowboard CANADA Magazine.
SHINE ON by Sandbox. an HD snowboard film about questionable people doing questionable things. Directed and produced by Kevin Sansalone and Clayton Larsen.
  Shot on location on Whistler/Blackcomb and in the Whistler Backcountry, the BC Interior, the Alberta Rockies, Calgary, Toronto, Montreal, California, and Japan.
  Featured Riders: Nash Lejeunesse, Dwayne Wiebe, Andrew Hardingham, Steve Cartwright, Brendan Keenan, Cory Gallon, Ryan Tiene, Rusty Ockenden, Ryan Hall, Nick Brown, Max Ritchie, Logan Haubrich, Jake Kuzyk, Andrew Geeves, Rube Goldberg, Kael Hill, Kevin Griffin, Jon Versteeg, Geoff Brown, Jody Wachniak, and Mikey Pederson.